EU economies grew at fastest rate in a decade in 2017, latest figures show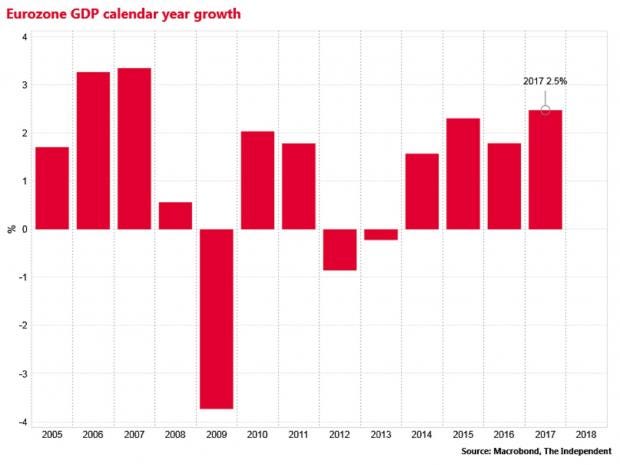 The Eurozone was firing on all cylinders at the end of 2017 as Q4 GDP came out in line with expectations at 0.6%.
2017 as a whole led to the Eurozone posting the strongest annual GDP figures in over a decade, partially due to strong French and Spanish growth figures. The Eurozone over the last decade has seen a lot of uncertainty with the recession hitting the Bloc State and the Greek debt crisis. However, with strong GDP, PMI and other economic indicator figures the Eurozone has put all that behind them and is looking stronger and more stable than ever, despite Brexit and the ongoing uncertainty surrounding it. Furthermore, after Draghi's optimistic outlook for the Eurozone last week, today's figures further correspond with the ECB's stance on Monetary Policy. If the long struggling Inflation in the Bloc State can bolster, an interest rate hike in 2018 could be possible.
Balraj Sroya quoted in the Independent